Hunter Saporiti, Managing Editor
September 17, 2018 • No Comments
A vehicle was stolen from Parking lot 13 on the Hammond campus on Sept. 5, according to campus police. Brian Miller, director of public safety, said that the missing car...
Hunter Saporiti, Managing Editor
September 17, 2018 • No Comments
The Indiana Debate Commission selected PNW as the site for the Oct. 8 U.S. Senate debate between incumbent Democrat Joseph Donnelly and Republican and Libertarian challengers...
Engineering, Business programs receive national recognition
September 17, 2018
Student robbed near Peregrine Hall
September 4, 2018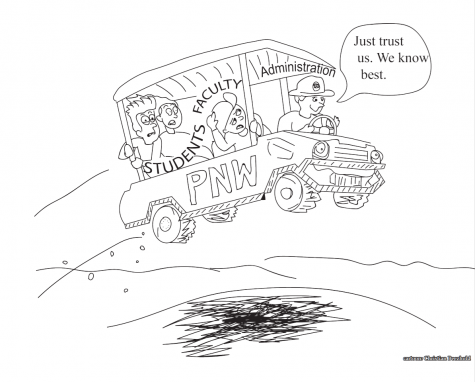 September 17, 2018 • No Comments
The Imagine PNW announcement is only the most recent example of a pattern that has been present since the start of PNW: unilateral decisions made by PNW's senior administration....
Amanda Lopez, Editor-in-Chief
April 16, 2018 • No Comments
Presidential candidates usually publicize their goals before they get into office. These goals are often inflated, but they drift in the direction of the candidate's mission....