Engineering a dedication for teaching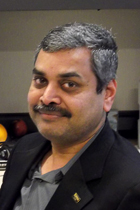 Hang on for a minute...we're trying to find some more stories you might like.
Chandramouli Viswanathan Chandramouli, associate professor of civil engineering, was the first person hired in the mechanical and civil engineering department when it was created in 2008. He has since gone on to become as involved as possible in the department.
Chandramouli, 52 years old, received a bachelor's degree in civil engineering in 1985 and a master's degree in water resources engineering and management in 1990, both from Annamalai University in Tamil Nadu, India. He went on to earn a doctorate's degree in civil engineering in 1997 from the Indian Institute of Technology in Madras, India.
Hired at the then Purdue University Calumet, he was given the responsibility of formulating the curriculum, the labs and the student activities for the program, which gradually grew to what consists of about 100 students now. Chandramouli then went on to start an engineering club, which later became a chapter of the American Society of Mechanical Engineers. He also established civil engineering competitions such as the Concrete Canoe Competition and the Steel Bridge Competition. In both, students design and build their project in April of each year.
George Nnanna, head of the mechanical and civil engineering department, said PNW is fortunate to have Chandramouli.
"He was instrumental to developing the civil engineering department. He was teaching a lot of classes, even outside of his specialization, when he started," Nnanna said.
Chandramouli said he tries to provide his students with opportunities outside of the classroom by facilitating and creating real world opportunities.
"The opportunities we see for students now is outstanding. While it originally intimidated me, the state-of-the-art curriculum we were working hard to bring and the research opportunities for students and graduate students clearly defined that in the past four to five years," Chandramouli said.
Nnanna said that his teaching methods and classes help the students as they prepare for plans after graduation.
"When it comes to students, they were successful in the industry because of him. He's a really great human being," Nnanna said.
In 2013, Chandramouli received a grant from the National Science Foundation and studied the benefits of student learning when 3-D models are used in the classroom. He collaborated with PNW's Chenn Zhou, director of the Center for Innovation through Visualization and Simulation and Emily Hixon, associate professor of educational psychology and instructional technology. He also collaborated with Florida Atlantic University, the University of Kentucky and the University of Columbia on the research.
Chandramouli is currently planning the next phase of his 3-D project and working with students on research about water quality in Northwest Indiana.
Earlier this year, he was recognized for his efforts when he was awarded the Outstanding Faculty Award for Teaching. Chandramouli said winning the award was a great feeling.
"For a teacher, winning the Outstanding Teaching Award is the most precious thing," Chandramouli said. "It shows the success story not only for the faculty, but for the students. A great teacher can only be made when the students are excellent. A great instrument can only be played when the musician is excellent. I was really fortunate to have wonderful students."
Chandramouli said that when he is not teaching, he engages in several hobbies. He enjoys meditation and practicing yoga. As a water researcher, he also likes to read about lakes and oceans in his spare time. Even though he enjoys these things, Chandramouli says he loves teaching the most.
"Teaching is not like other jobs. It's about the students and their future. It's about adapting ourselves and taking it to the students." Chandramouli said. "It's a job that requires passion."