A husband-and-wife coaching duo has quickly turned what once was a lackluster athletic program into one of PNW's best. 
Sean Douglas was hired as the newest PNW volleyball coach in January 2022. After enjoying plenty of success in his previous coaching job at Life Pacific University in San Dimas, California, he took on the duty of turning around a team that won just two games in their first two seasons in Division II play.  
"When we took the job over before last season, I think the overall program just lacked some leadership," Douglas said. "When [volleyball] went Division II, they were just behind basically on funding. The school needed to catch up, [and I think] investing into the program was a big part of [today]."
One of his first real assignments as a new head coach was filling out the coaching staff. In sports like volleyball, where staff are small, finding a quality assistant coach is crucial. 
For Douglas, the job may have been one the least of his worries, since his wife Mallory has coached the sport by his side for nearly 17 seasons. 
"Our number-one passion even before we met was volleyball," Douglas said. "We have been coaching together for so long that [everything] happens organically. 
"Yes, we disagree on some topics, but we ultimately want the same thing," he said. "We come up with a plan together and we just go. … I would consider [us] co-head coaches. It is 50/50 down the line. We both make decisions.
"We have a passion for the sport and building these players to be the best they can be," he said.
And build they did. Douglas' 2022 squad consisted of 12 new faces, with only seven returners from the year before.   
Getting the players to work together was a big job. 
"The hardest part about building a culture is getting everyone on the same page," he said. "It is hard to get 12 [new] kids to assimilate with seven returners. Volleyball is tough because it is a fall sport and they start right away, unlike winter sports where you have about three months to build your culture. You're thrown right into the fire."
Once players found ways to perform as a team, the Pride hit the ground running, posting their best season in Division II play with a 9-20 record in 2022.  
But it was in the spring season when the Douglases finally noticed their progress.  
"I think the spring of 2023 was super important where we all kind of got on the same page," Douglas said. "We played some spring tournaments and beat some really good teams. Most importantly, the girls just bought into each other."
That success and momentum trickled its way to the current fall season, where the team has already matched its win total from a year ago, with a record of 9-8.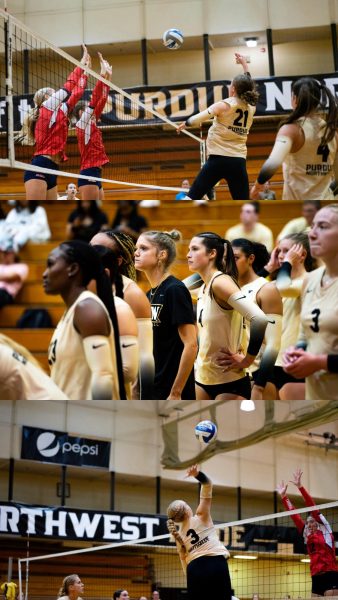 The early season production has been on the backs of some impressive underclassmen, many of whom the Douglases recruited into the program. 
"When your culture is in a really good place, the younger players can thrive," Douglas said. "[The freshmen] came into a situation where they can compete, feel free, and feel supported. We also have a very strong sophomore class that is really contributing."
Arra Cottrell, a sophomore opposite hitter, is on pace to lead the team in kills for her second straight season. 
Anika Huelskamp, a freshman outsider hitter, is second behind Cottrell in kills while pacing the squad in service aces. 
Marina Gronkiewicz, a sophomore setter, is well in front as the team leader for assists, her second season leading the team in that category. 
Finally, Livia Thomsen, a sophomore defensive specialist/libero, is on her way to finishing at the top of the team leaderboard for digs. 
Although the young guns are putting up the eye-popping numbers, the returners are just as important. 
"The players who are playing a lot feel supported and the players who are fighting for playing time support others and are working really hard to get better," he said. "The returners, who are upperclassmen, have just embraced [the underclassmen]. I can't give them enough credit. Their leadership has been fantastic."
From a bottom-feeder team as little as two years ago, the duo of Sean and Mallory Douglas have turned the program around into one that is competing for its first postseason GLIAC tournament berth in PNW volleyball history. 
They credit this instant success to something they are both familiar with – family.
"We really try to preach family with our girls, but I think we could preach that because they are being coached by a family," he said. "I want our players to be comfortable. When I go to recruit kids, I tell these parents, I want to be the surrogate parent for your child, I want them to know that they have a safe place to go. I just think our program is in a really healthy place."