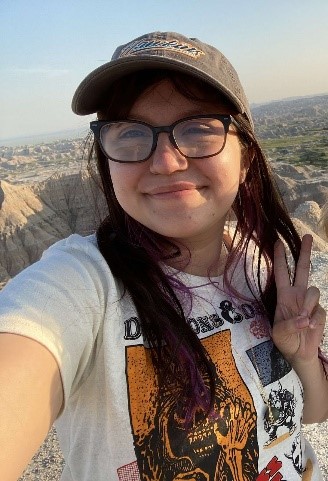 Payton Max loves to fall – but for some odd reasons.
"There are so many things I love about it; I can't narrow it down to a single thing," said Max, a senior Elementary Education major. "I really love going to haunted houses with my friends, wearing comfy sweaters, and watching scary movies."
She is especially eager this year. 
"The new 'Exorcist' movie just came out recently and I have plans to go see it with my best friend," she said. "I loved the original movie so I am hoping that I will like this one just as much. 
"Something about seeing a scary movie in the fall just makes it better and more enjoyable," Max said. "I don't know how to explain it."
Max has a certain style that she likes to rock in the fall weather.
"Fall is the absolute perfect time to wear one of my many oversized sweaters," she said. "Over the years, I have built up quite a collection of these sweaters, and every fall I end up getting more. It's kind of an addiction, and they're too warm to wear in the summer so almost every day in the fall I wear them."
But one of her favourite things about the season is the spooky things that take place around Halloween.
"Every year, I try to go to as many haunted houses as I can," she said. "Last year, I went all the way to Tennessee to visit an extremely scary haunted house.
 "I think it's so fun when you don't know what's going to happen next, like if someone or something is going to pop out and scare you," said Max. "I haven't made any plans yet to visit any this year but I'm sure I'll end up going to a few."