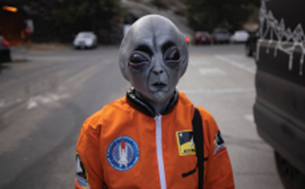 Congressional hearings on the existence of space aliens thrilled conspiracy fans, but a PNW astronomer said they did not prove that little green men exist.
"We heard once more, without any actual proof, that the U.S. government has evidence of extraterrestrial life and spacecraft," said Adam Rengstorf, who teaches Physics and Astronomy and oversees PNW's Northwest Indiana Robotic Telescope Observatory. "To be clear, no one has confirmed the existence of extraterrestrial life. A guy testified with absolutely no proof beyond 'trust me'.
"This pops up every few years," he said. "It's exciting and tantalizing, but ultimately just the latest round of a long-lived conspiracy theory."
A House Oversight subcommittee held a hearing with highly anticipated testimony from retired Air Force major David Grusch last summer. He told the committee that the U.S. government has known about extraterrestrial life since the 1930s.
Grusch, who was part of the Pentagon's UAP Task Force investigating unidentified flying objects, told the committee that the U.S. has retrieved "non-human" biological matter. However, he acknowledged that he hasn't personally seen any alien vehicles or alien bodies.
Rengstorf said he was not surprised.
 "I have never seen anything that would be considered UAPs or non-human activity," he said. "To be clear, just because something is unexplained or unidentified, we should not fall prey to the argument from ignorance and conclude that if we can't explain it, it must be aliens.
"One common characteristic of a conspiracy theory is that it is unfalsifiable," said Rengstorf. "Lack of evidence doesn't matter to its adherents and nothing you say can convince someone it's false." 
Despite the lack of hard evidence, Rengstorf does bring extraterrestrial life up in his classes. 
"I definitely talk about the possibility of extraterrestrial life in class," he said. "Most astronomy classes will touch on the possibility/likelihood of extraterrestrial life.
"We talk about the requirements for life as we know it, where those conditions might be met in our own solar system and elsewhere in the galaxy," said the astronomer. "It's a huge, unanswered question and of course, it's interesting, exciting and rightfully fosters all sorts of speculation. To be clear, the only place we know life exists is right here on Earth."
Rengstorf said talk of space aliens is natural – and common.
"As a society, we will continue to talk about until we find proof of life – decades or centuries or millennia from now," he said. "Or never. 
"Actually, encountering life would be a definitive act," he said "But not finding it doesn't prove anything and we'll just keep wondering."