Students from warm-weather locales adjust to Northwest Indiana's icy temperatures, snows
Going away to college can be hard. Moving from a warm-weather climate to spend winter attending classes in icy Northwest Indiana takes some getting used to.
"Sometimes I do question why I decided to come to Indiana for school because the cold angers me," said freshman Jeremy Ertola from California, who has only just started experiencing his first winter in the Region, where winter temperatures average around 26 degrees in January. That's notably colder than California, where the average winter temperature is over 46 degrees.
"It has gotten to the point where I bought heated socks," he said. 
More than 80% of PNW students are from Indiana, but the school does attract people from across the country and around the world. The university Fact Book reports that 870 current students are from out of state and 340 come from other countries.
Most were not attracted by the weather.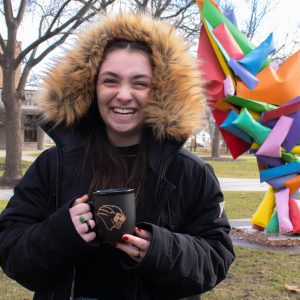 "I've never been fond of the cold," said  Emma Hill, a junior Engineering major from Florida, where the average winter temperature is over 59 degrees. "But I think snow days are great because no one should feel pressured to get to school when it may be unsafe. But for most college courses nowadays they'll end up doing class over zoom if we can't go on campus." 
Making the best of the situation, she said the cold and snow permit many activities that are impossible in 100-degree weather. 
"My favorite thing to do when the snow is nice is to go skiing/snowboarding," Hill said. "If I have an opportunity to do so, I also like to stay inside where it's cozy and watch TV or movies." 
Other students have come to terms with the weather. 
"I came to PNW so that I could play softball at a high level and be in nursing school," said Allison Arnold, a junior Nursing major from Arizona, where the average winter temperature is nearly 44 degrees. "Traveling for softball growing up and playing in all kinds of weather was fun to me so the cold weather here doesn't bother me. Plus I love to dress warm."
Arnold said she likes to take full advantage of the snow and embrace her inner child. 
"I love to play in the snow with my teammates," she said. "Building snowmen is my favorite, but they have to be the biggest possible rolled up snowballs." 
Leave a Comment