Students escape routine stress with arts & crafts
Taylor Collins and Savannah Benitez are thrilled students keep showing up at their Fine Arts Club meetings.
"Last semester a few new people told me that this is their favorite thing to do on campus," said Collins, who teamed up with club vice president Savannah Benitez to organize the group after discovering her hidden talent for drawing last summer. "Now I see them coming back in the spring and it makes me feel like maybe I kept them here in a way."
Collins wants the Fine Arts Club to offer students a getaway from the stress of classes, tests and term papers without the pressure of needing to be good at art. 
It seems to be working.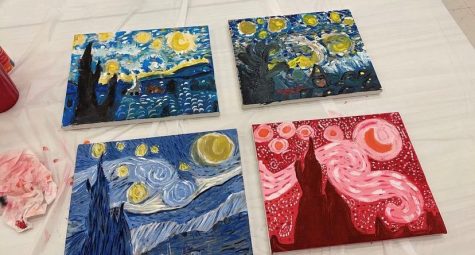 "It's a good stress reliever," said Aylin Sanroman, a sophomore majoring in Biology, during the club's recent Van Gogh Night. "I just came from class and my mind is just buzzing, so to be here in the quiet is nice."
Gareth Keeble feels the same way.
"My favorite part is how relaxed the club is," said the freshman majoring in Computer Information Technology. 
Junior Mark Banaag, a junior majoring in Visual Communication Design, likes the fact that people of all skills come together.
"It definitely helps to not only represent art and design but also to get all sorts of people together… whether they're good at art or not," he said. 
The group meets on the Hammond campus Wednesdays at 5 p.m. and is open to all PNW students. Events usually last around an hour and can be eclectic, ranging from emulating Bob Ross' painting style to concocting homemade slime. 
What does slime have to do with fine arts?
"Fine arts is defined as creative art whose products are to be appreciated solely for their imaginative, aesthetic or intellectual content," said Benitez, a sophomore Marketing major. "We are being creative in making different art forms."
Attendance is free and participants can keep whatever they make. In April, the group will make art from recycled materials for Earth Day. 
Collins and Benitez want to expand to the Westville campus but say they don't have the bandwidth. 
"We would love to expand … but it would be so hard unless someone in Westville was our representative out there and set up their events," said Benitez 
Meanwhile, Westville students are welcome to drive over. 
"I've held hybrid meetings in the past so that Westville students came," said Collins. "I hope to see more.
Leave a Comment