PNW class to perform "Wonder of the World"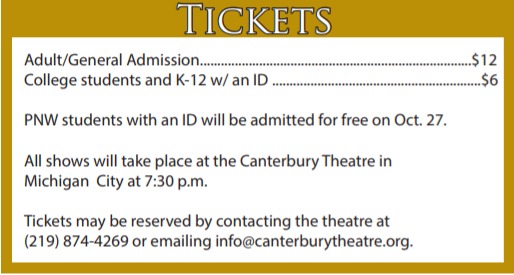 The Comedic Performance in Context class will perform the play "Wonder of the World" across two weekends on Oct. 26 and 27 and Nov. 2 and 3.
The work, originally written by Pulitzer Prizewinning playwright David Lindsay-Abaire, is a dark comedy about a woman named Cass who is out to change her life after her marriage fell apart.
Bethany Lee, assistant professor of English and director of the play, said she chose the play in part because it has a female-heavy cast which fit her students, but also because it is a more intellectual comedy.
"There's a tendency within community theatre that all comedy has to be light, but I've always been fascinated by the darker side of human connection," Lee said.
Lee also noted that the play has been underproduced both on a national level and in the Region, which made it a prime choice.
She has challenged actors to delve into their roles through in-character exercises, including psychologist session role-plays.
"We've had a lot of rehearsals but we've also been researching the psychology in the underpinning of the show to be able to show the emotion and depth the characters have," Lee said.
Abbie Michaels, junior communication major, is playing the lead role of Cass. To prepare for the role, she said she reflected on what makes her happy in her life to bring more realism to her character's lines and actions.
"Cass is a over-the-top bubbly person and it's been a challenge as she's sort of the opposite of me," Michaels said.
Also a voice actor, Michaels said it was a surprise to land the lead role but that she is pleased to be able to step outside of the box of her previous theatre experience.
Brianna Buckner, junior elementary education major, who will be playing the role of one of the supporting characters, Barbara, said she is happy to showcase all the hard work the class has put into the production.
"It's a very fun show; it's hilarious and witty with a deeper meaning and I think everyone can enjoy it."
Lee said that due to mature themes, parental guidance is advised. 
Leave a Comment