PR Club slam dunks for a good cause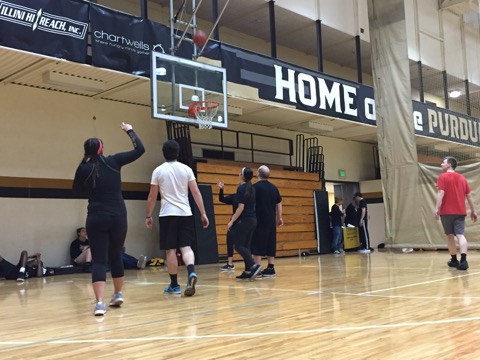 The PNW PR Club's 3-on-3 basketball event, held on March 22 at the FRC gymnasium, raised $220 for the American Heart Association.
Students, faculty and staff could pay $5 to play against each other in basketball at the event. Each of the 15 members of PR Club each donated $5, even if they did not play basketball. Donations were also collected at a table at the event.
The American Heart Association was chosen because most of the members of the club have personal connections to the cause, Oriana White, PR Club president, said.
"We have a club of 15 people, and 13 of those had something to do with the American Heart Association, through them personally or their families," White said.
Adam Davis, a senior communication major, connected the club with the association when he was the interim PR Club president.
Approximately eight teams competed in the event. Goodie bags were given away to winning teams, which included T-shirts from CHESS and the American Heart Association, CHESS lanyards, sunglasses and highlighters.
Austin Riese, senior communication major, participated in the event.
"I'm so glad to have been able to take part in something like this for such a good cause," Riese said.
PR Club faculty adviser Deanna Francoeur-Schmidt said that the event was a great way to promote American Heart Association and raise awareness for heart disease.
"It's really more about giving together, bringing people together for a great cause," Francoeur-Schmidt said.