Hammond duo runs for SGA positions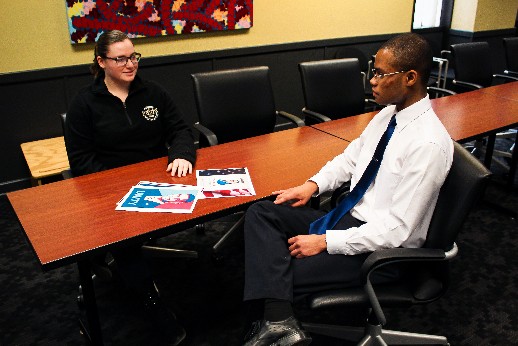 Hang on for a minute...we're trying to find some more stories you might like.
Determined to focus on unity, productivity and transparency in SGA, Eric Taylor is running for president with Victoria Von Uhl as his vice president for the 2018-19 election.
Taylor, junior finance, accounting and business analytics major, is the current chief financial officer of the organization. In the Fall 2017 semester, Taylor stepped down from his role as president of the Finance and Accounting Club after serving two and a half months.
Taylor sent an email to several hundred members of the PNW community asking them to boycott all PNW functions that were not a part of FAC. This was due to his feelings that the university did not properly commemorate the death of a former member of the club. Several days later, he sent out an apology email, but Taylor continues to advocate for a wall in commemoration of students that have died.
"My proficiency in unifying students is a skill I have continued to mature in with greater experience. I have made a few mistakes along the way and have emerged as an even stronger and more qualified leader as a result," Taylor said. "However, in this critical election, I see an urgent need for change in the way that student government represents the student body. We should be doing more than just offering leadership funds and handing out doughnuts."
Taylor said he wants more student feedback during the process of SGA projects. He plans to be more transparent with their actions by utilizing emails, social media and student organization feedback.
Von Uhl, junior communication major and current Honors College senator for Hammond, was chosen as Taylor's vice president because she has experience in marketing and public relations.
Taylor and Von Uhl want to ensure that SGA minutes are posted to the organization's website, which are currently not available unless requested. The running mates also want to host town hall events to encourage students to voice their opinions.
"I want to foster an open and ongoing dialogue with the students of our community to improve our functionality and better represent the students of both campuses. I believe in coming together to promote positive change in order to foster a sense of unity between both campuses at PNW," Von Uhl said.
Taylor said he hopes to ensure that Westville students feel their voices are heard and plans to attend student organization meetings on that campus regularly, as well as talk to the Westville students.
Taylor said he is also in favor of trying to lower prices of textbooks in the bookstore. It is a current project that members of SGA are discussing with with Jennifer Hupke, director of purchasing and general services.
"I see a lot of students who are not able to take a certain amount of classes because they can't afford the textbooks or they have to drop a class because of it. That's affecting their academic performance and it would better serve the student body if they were cheaper," Taylor said.
Taylor said he feels he is best fit for the role as president of SGA because he has experience running organizations.
"I know about the components and what it takes to get people motivated," Taylor said. "A lot of people have great ideas but if you can't get them done there is no purpose."