Former PNW golfer Mudd sets sights on PGA Tour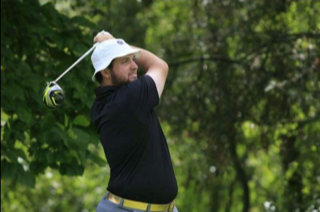 Hang on for a minute...we're trying to find some more stories you might like.
Patrick Mudd is not your ordinary alum, as his golf career at PNW granted him the opportunity to chase his dream of becoming a professional golfer.
Mudd began playing golf during his childhood and was dominant during his college years. He became the first golfer at PNW to earn All-Chicagoland Collegiate Athletic Conference honors after his sixth-place finish at the April CCAC Championship and earned the John Friend Leadership Award. He also became the seventh member in PNW history to become a CoSIDA Academic All-American.
Following his graduation in Spring 2017, Mudd's golf pursuit has shown no signs of stopping. For a short amount of time, he worked as a coaching assistant for Valparaiso University's women's golf team.
"Coaching involves a completely different mindset. I have to separate myself from what I would do, which can be tough for a golfer. I only got to attend one event as a coach, but I learned that every golfer goes about the game differently," Mudd said.
Mudd left coaching to move to Florida with hopes of achieving his dream to play on the PGA Tour. He is currently playing at smaller events, trying to raise enough money to gain access for PGA Tour Canada Q School and the Web.com Tour, which lead to the PGA Tour.
When Mudd is not competing in a tournament, his time is usually spent on the course practicing for an upcoming event. An average day consists of exercising basics, improving areas that need work and strengthening cardio and muscle.
"I love the process of getting better, something I couldn't do as much while in school because of everything I was involved with. It's easy for me to find passion in golf, since it's such a difficult, complicated game," Mudd said. "There's always something new to learn, and something to improve on. No matter how hard you try, you can never be perfect, but you can always improve."
Mudd's former college coach Randy Wexter highlighted Mudd's work ethic in both the classroom and on the field.
"He never stops working, even in the classroom. He's always questioning and trying to learn more. This applies to golf as well; he's constantly trying to up his golf IQ to figure out how to get better," Wexter said.
Residing in Florida has made it difficult for Mudd to interact with PNW as much as he'd like, but he continues to put forth efforts to stay involved. The PNW alumnus said whenever he is back in town, he aims to meet up with old teammates and professors, as well as participate in Student Athletic Advisory Committee's Make-A-Wish events.
While his current dream is to become a pro golfer, Mudd said he wants a well-rounded life in case something happens to either himself or the game that prevents continuation. He plans on keeping his doors open for an opportunity to act on what he double-majored in during college: political science and history.
"I've always been a news junkie and loved politics, so working in D.C. doing something with public policy would be amazing; however, as of now I'm truly blessed to have the opportunity to pursue my dream playing golf, and I want to make the most of it," Mudd said.