Compete for Charity: Alpha Psi Lambda and Phi Xi Psi face off in volleyball match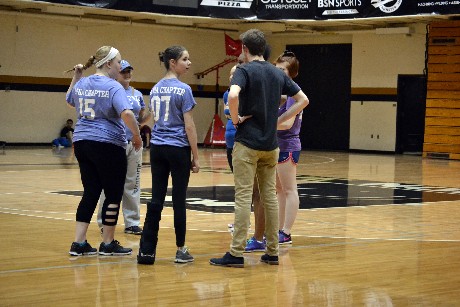 Hang on for a minute...we're trying to find some more stories you might like.
The women of Alpha Psi Lambda, PNW co-ed fraternity, and Phi Xi Psi, PNW sorority, came together to play volleyball on March 29 to raise awareness for two charities.
The two Greek organizations competed in a charity volleyball game with the received donations going to the winners' charity of choice.
Alpha Psi Lambda chose to represent the Boys and Girls Club and Phi Xi Psi played to donate to the LuMind Research Down syndrome Foundation.
Camille Colon, sophomore and member of Alpha Psi Lambda, was the creator of the event. She said each charity was chosen because of each organization's respective philanthropy.
"Community service has always been something that has been important to us," Colon said. "I was raised on the basis that if you are in a position where you can give back, you should. Doing stuff like this is fun and gives people the chance to come and check us out."
The idea of a volleyball game was inspired from past Alpha Psi Lambda charity basketball games. The winners of these games would also pick a charity.
Gia Valfre, freshman and president of Phi Xi Psi, said the organizations participated to have fun.
"We're doing this to raise money and build relationships with the other Greek organizations. We're all trying to give back to the community," Valfre said.
Jessica Ruiz-Perez, a former member of Alpha Psi Lambda and PNW alumni, said the event represents sisterhood.
"It's nice for them to do something where the sisters of Alpha Psi Lambda and Phi Xi Psi can get together and show each other support," Ruiz-Perez said. "These members weren't here when I was an undergraduate, and it's nice to see this kind of continued unity and Greek life continue to thrive at PNW."
Valfre said that Phi Xi Psi will be involved in other projects.
"It is called the Growing Project. It's an opportunity to help and give children with special needs to garden and enjoy the outdoors," Valfre said. "They take the produce they grow and sell them at markets, and it goes back to their funding."
Phi Xi Psi was founded and introduced at PNW in 2014. The Alpha Psi Lambda epsilon chapter was founded in 1991.