Spanish scholar shows spirit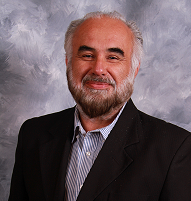 Hang on for a minute...we're trying to find some more stories you might like.
Spanning several roles in communication, Jose Castro-Urioste, professor of Spanish, said his work creates little time for leisure but that his work never actually feels like work to him either.
Born in Montevideo, Uruguay and raised in Peru, Castro-Urioste finished high school and studied law and literature until 1988, when he received a bachelor's degree in literature in Lima, Peru. Shortly after, Castro-Urioste began to work on a play, the first of many of his creative works.
Jonathan Swartz, department head of foreign language and political science, said that Castro-Urioste is remarkably well-rounded.
"What really stands out about him is that he's a consummate scholar," Swartz said. "He does it all and he does it really well. He's not only someone who studies and criticizes literature. He's a playwright, novelist and storywriter. The breadth of his work is really amazing to me."
In the later part of 1988, Castro-Urioste came to the United States, where he studied at the University of Pittsburgh and earned a master's degree in 1990 and a doctorate's degree in 1993 in literature. With his degrees, Castro-Urioste taught in Minnesota, New York and Pittsburgh before finally coming to PUC in 1998.
Castro-Urioste said he came to the university because he felt there was a great opportunity in the area.
"I like the certain possibilities with culture issues and the diversity," Castro-Urioste said. "This is a unique area, and it's not well-known in the country that the Northwest Indiana area is so diverse."
Castro-Urioste said he loves teaching students because it gives him an opportunity to counteract the environment surrounding writing.
"The interaction with students gives me energy. The other part of my job is to write, and writing is a lonely world. So teaching is the opposite," Castro-Urioste said.
For his efforts, Castro-Urioste won the Outstanding Faculty Award for Scholarship, in which Swartz said he was an obvious choice.
"When you look at that list of scholarly accomplishments, he's one of the university's leading scholars. There's no one more deserving of the award on campus, and we're really thrilled for him," Swartz said.
Castro-Urioste said he was pleased to have won the award – not for himself, but for the recognition it gives to his field.
"For me, as a literature professor it is very important to win because the humanities have been questioned in the United States, Europe and Latin America," Castro-Urioste said. "Winning this award here at PNW, it means we humanities professors have an important role in education."
His love for students also allowed him to help in the creation of the department's "Nuestra Voz: Revista de Escritura Creativa/Our Voice: Journal of Creative Writing." He served as the editor, and the journal included works in Spanish from the students in his Spanish creative writing class.
"It is really a wonderful accomplishment on his part to edit and publish this great publication of our students' work," Swartz said. "Again, it demonstrates how he really is the complete package of teacher, scholar and creative writer."
In addition, Castro-Urioste published a book a year ago titled "Hechizo," which was a collection of short stories. He went on to present the book in Chicago, Nicaragua and Peru. He is currently working on another book as well.
Castro-Urioste describes his work as varying in themes. He said it touches on topics of humor and criticizes the use and abuse of technology and politics.
"Writing, for me, is a pleasure. At this point, I don't care what is going to happen next with what I write. If I win an award, that's extra. Really, the process itself is powerful and full of intellectual pleasure," Castro-Urioste said.