Shuttle service departure times reduced, bus provider changed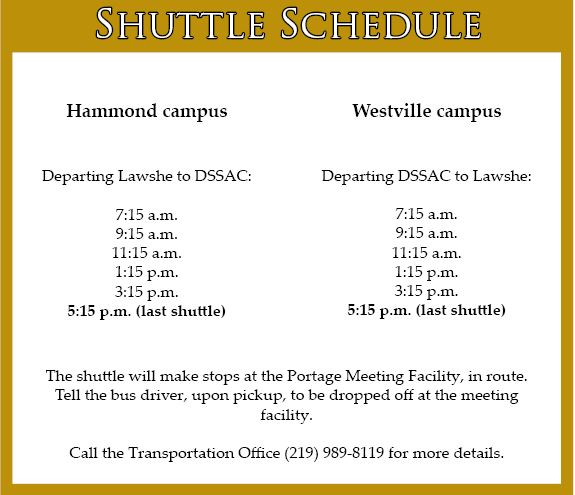 Hang on for a minute...we're trying to find some more stories you might like.
The number of inter-campus shuttle departure times will be reduced by half effective Aug. 13, according to Brian Miller, director of public safety, who said the system had difficulty adhering to on-time, every-hour departures.
"In the beginning, we set too aggressive of a schedule," Miller said. "With heavy traffic, road construction, Department of Transportation required driver breaks, and, of course, weather, one-hour trips between the campuses [were] difficult to accomplish. Several times per week, we were unable to make our times."
Additionally, according to Miller, PNW has switched bus providers from Chicagoland Transportation to Eclipse Transportation of Burns Harbor, Indiana.
Occurring in July, the schedule announcement comes at a time when many PNW students have already finalized their Fall 2018 class schedules, which, for many students, include classes on both campuses.
Riley Owens, SGA president, expressed concern about the timing of the announcement and how it will affect students' schedules. Owens will monitor student feedback from the schedule change and will bring it to the attention of the faculty senate if needed.  
Miller said the new schedule was issued directly after PNW was awarded the multi-year bus contract with Eclipse Transportation.
"It is our goal to again survey our riders [in the spring] and have schedule changes made before course selection," Miller said.
Since its introduction in 2016, minor scheduling changes have been made to the shuttle service. The reduction in departures from every-hour to every-two hours, however, is the most significant change to date.
Miller said shuttle ridership was tracked and believes that the new schedule will be sufficient. And that the shuttle service will continue to be evaluated using feedback from students, faculty and staff.
Due to Bioscience Innovation Building construction, the pick-up and drop-off zones for the shuttle service have been moved from in front of SULB to west of Lawshe Hall on the Hammond campus.
Correction: An earlier version of this article published on Aug. 6 misreported that 40 passenger buses were used by the inter-campus shuttle service during the 2017-18 academic year. Twenty-four passenger buses have been used by the service since Aug. 2017.