Information Clinic informs attendees on DACA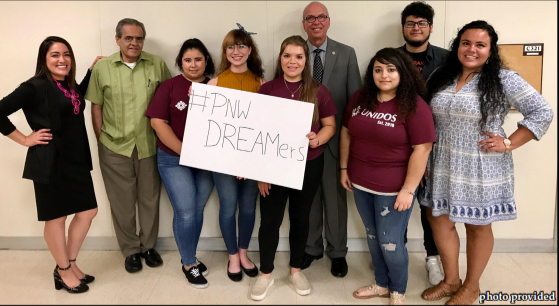 Hang on for a minute...we're trying to find some more stories you might like.
Childhood Arrivals Information Clinic supported by the Social Work and Unidos Club informed attendees about the importance of the program on the Hammond campus on Sept. 20 and the Westville campus on Sept. 21.
Monica Renteria, senior nursing major and president of Unidos, said the purpose of the event was to support DACA recipients after Attorney General Jeff Sessions said the program will be repealed.
"Northwest Indiana didn't do anything and we wanted to do something," Renteria said. "Not everyone understands that DACA is a people issue."
Renteria came to the United States when she was 11 years old and has American citizenship because her mom is a citizen. She said she feels privileged because of her citizenship.
"I want to support DACA because everyone should have the same privilege that we all have," Renteria said.
Hannah Jumche, senior social work major and president of the Social Work Club, said she is concerned for everyone who may be affected by the repeal.
"We are all directly affected by it. Each of us know someone who is going through this. It is now where we have to be welcoming and show our support and be their voices," Jumche said. 
Jose Bustos, director of the Immigrant Support and Assistance Center at Catholic Charities in East Chicago, was one of the speakers for the event and discussed the importance of DACA. He protested with the DREAMers and has been arrested numerous times because of these protests.
"These are young men and women who have dreams," Bustos said. "We have to be willing to do what it takes."
Bustos came to America when he was 7 and became a citizen because his father was an American citizen. Bustos works with undocumented people and guides them on what steps to take. Many parents sign a custody letter for their kids in case they are deported.
"It's really sad to see the parents, especially the mothers, signing the custody letter. It sucks, but they are doing the right thing," Bustos said. "They are praying for the best but are preparing for the worst."
Bustos told attendees to make sure that they know their rights.
"Even people undocumented have rights under the U.S. Constitution. Do not open your door for anyone unless they have a warrant. Do not say anything to them. You are protected under the fourth amendment. Always have a plan just in case," Bustos said.
Sharon Gonzalez, junior management information services major and DACA recipient, attended the event to find out how she can protect herself. When she was 1 year old, her family came to America from Mexico City. Her younger siblings were born in America, but she and her parents were not. She fears being deported.
"Everything I have worked for is gone and now they are dragging my family into it," Gonzalez said.
Gonzalez said people need to talk about DACA to stop rumors about recipients being criminals, but she said some people are too scared.
"You hide and don't talk about it because you don't know who is for you and who is against you," Gonzalez said.
Recipients were urged to find support and to apply by Oct. 5 if their DACA expires by March 5, 2018.
"This is about people. We must make sure that others understand that. We must make noise. We have to let it be known that this isn't right," Bustos said