Students to perform Robin Hood spoof play
Hang on for a minute...we're trying to find some more stories you might like.
This fall, there will be seven performances of the play, "The Somewhat True Tale of Robin Hood," between both campuses over a course of three weekends this semester.
Zachary Gipson, the director of the spring musical "Little Shop of Horrors," is once again directing the PNW students for the fall play. Gipson has previously performed in the play in high school, designed it three years later at another school, and produced, directed and designed it at 4th Street Theater in Chesterton in 2014.
The play is based on the work by Mary Lynn Dobson that first opened on July 16, 1999. It is a comedic take on "A True Tale of Robin Hood," where Robin Hood meets and falls in love with Lady Marian.
Robin Hood will be played by Cristian Galvan, freshman communication major, and Lady Marian will be played by Sarah Scasny, sophomore communication major. The Sheriff of Nottingham, played by James Solis, soon gets involved when he schemes with the Evil Prince John, played by Matthew Ruiz. The play will be set up in a Shakespearean style globe theater.
Gipson said the play's comedy style is a cross between Mel Brooks and Monty Python-style comedy that is for all ages.
"It's spoon-fed comedy, so it's not political and there's no secret undertone. It is purely just zany material where you can sit and enjoy yourself," Gipson said.
One difference from any of the previous incarnations of the play is Gipson is structuring this as a round theater play, a production with an audience on four sides. This is also the first time a performance at PNW has used the round theater format.
"We're creating a Shakespearean globe theater. We could do this show outside or anywhere really as long as there's the space to have it. The set is going to be four towers that we're going to hang tarps from and it will create that atmosphere for us," Gipson said. "It will also make setting up easier since the tour will be going back and forth between the two campuses."
Galvan said he is pleased to perform at both locations since he is from Michigan City. It will allow his family and friends to easily come out and support him.
Galvan, who has previously performed in "You're a Good Man Charlie Brown," "Hairspray" and "Godspell," said scheduling and being a lead are the two challenges he has faced while preparing for the production.
"Being a lead is always hard because you edge the show along. You really have to know your lines, when your cues are and what's going on. It's a give and take situation where you rely on the reactions of the cast but they rely on you to keep everything running smoothly, " Galvan said. Scasny said this will be her first production.
"I feel a bit of pressure since there's been other people that have performed before in the cast and I'm one of the leads, but at the same time I'm pushing myself to a new limit," Scasny said. "Zach has a really cool vision for the play. So when he pauses us during rehearsals, it's interesting to see his take and each individual's take on their roles. Each of those add up and have really prepared me and made me feel a lot more comfortable in this role."
Scansy said this experience has been an eye-opening one for her.
"I've realized how important theater is because I'm in this. Actually being a part of it and seeing the makings of the productions is a really beautiful thing. Having PNW build that up more would be great to see in the future," Scansy said.
Gipson said he is pleased with how well the cast has been performing in rehearsals and the progress they have made, making him more comfortable with the production than any other he has worked on. As of right now, tickets are limited to 84 seats per show.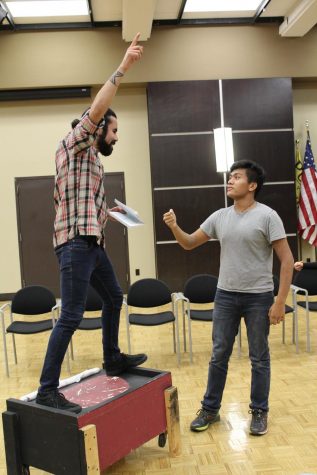 Amanda Lopez
Robin Hood, played by Cristian Galvan (left), speaks to one of his Merry Men, played by Niko Cabela (right), about the upcoming archery competition to win the favor of Lady Marian.