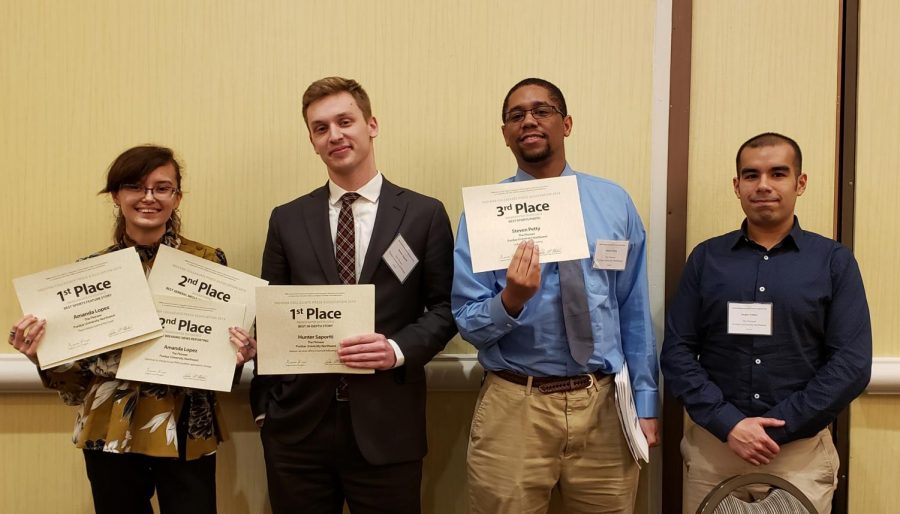 The student newspaper of Purdue University Northwest, The Pioneer, won 11 awards at the Indiana Collegiate Press Association 2019 convention on March 30.
The five staff members who won totaled four first-place awards, four second-place awards and three third-place awards. The ICPA convention is an annual event featuring public and private colleges from the state of Indiana. The Pioneer has been competing annually in the competition since 2014.
"I'm extremely proud of the Pioneer staff for bringing home a hefty stack of state-wide journalism awards," said Pioneer Advisor Rick Markley. "These awards further validate what those close to the Pioneer already know, that the paper is staffed by skilled and dedicated students. These awards are even more impressive when considering the large challenges the staff had to overcome to turnout this award-winning work."
Hunter Saporiti, managing editor, won two first place awards and two awards in the same category at the event at IUPUI in Indianapolis.
Three staff members of The Pioneer won their first awards. Amanda Lopez, editor-in-chief, won four awards overall.
"I'm proud of all the hard work the staff regularly put into the newspaper and it makes me happy to see that they're recognized for their reporting and photography," Lopez said.
Amanda Lopez, First Place, Best Sports Feature Story, "Thorn thrives behind the mask" (Feb. 4, 2018)
Hunter Saporiti, First Place, Best In-Depth Story, "Veteran services office in turmoil following layoff" (April 29, 2018)
Hunter Saporiti, First Place, Best Staff Editorial, "Faculty input takes back seat" (Sept 17, 2018)
Kyle Trpeski, First Place, Best Review, "'Streetcar' driven by emotional performances" (Nov. 26, 2018)
Christopher Anguiano, Second Place, Best News Photo, "Masthead maintenance: Following protests, diplomas to retain Purdue University" (Oct. 13, 2018)
Amanda Lopez, Second Place, Best Breaking News Reporting, "Diplomas to change to say PNW, students opposed to change" (Sept. 28, 2018)
Amanda Lopez, Second Place, Best Continuous Coverage of a Single Story, "SGA race causes tension among candidates; SGA elections postponed: Presidential candidate disqualified pending approval; SGA president and VP announced, Taylor's appeal partially denied" (March-April 2018)
Amanda Lopez, Second Place, Best General Media Kit/Marketing Package (2018)
Steven Petty, Third Place, Best Sports Photo, "Golf ends on a high swing" (April 29, 2018)
Hunter Saporiti, Third Place, Best News or Feature Series, "Imagine PNW to analyze academic programs, resources; Imagine PNW debate: Senior administration, Faculty Senate clash over input; Provost announces Imagine PNW membership" (September 2018)
Hunter Saporiti, Third Place, Best Staff Editorial, "SGA incommunicado during election confusion" (April 1, 2018)