Palascak gives campus some much needed laughter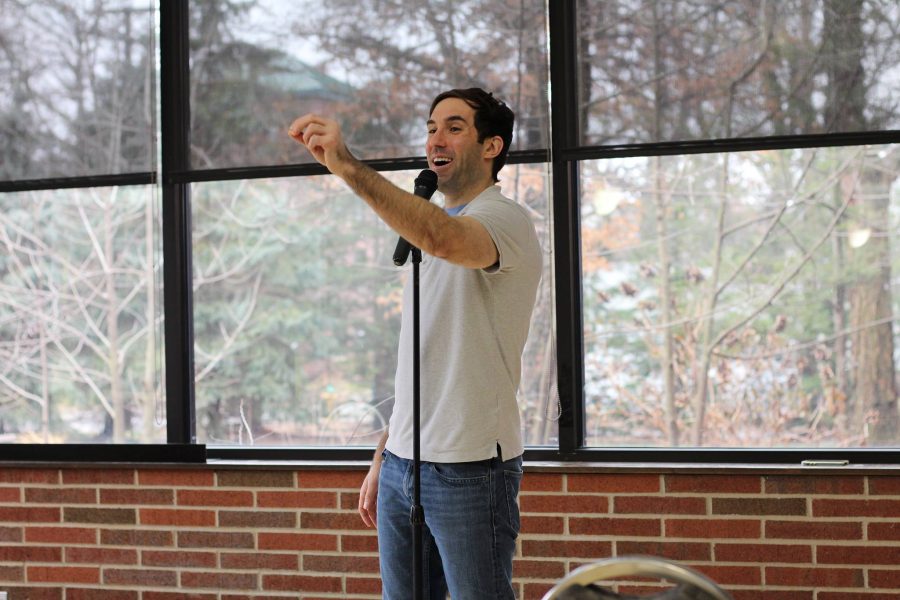 Hang on for a minute...we're trying to find some more stories you might like.
After finishing out the first semester as Purdue University Northwest and participating in the usual slew of hellish classes and finals, students and faculty could use a laugh. Enter comedian Michael Palascak, who has appeared on everything from "Conan" and "The Tonight Show" to Comedy Central and "Last Comic Standing."
As Palascak performed free stand-up comedy for an hour on the Hammond campus on Jan. 18, two often rare commodities at PNW could be seen: laughter and genuine interest.
"What's the mascot here? The lion? Are they indigenous to this area? All of a sudden a lion just starts running at the glass. 'That's why all of our rooms are all windows. You can see the lions run at you. They sleep most of the day, but when they attack…you know, you lose a couple of students, but they learn. Otherwise how can we be the lions? It's our mascot,'" he joked.
Palascak talked about relatable subject matter, such as bad cell phone reception, relationships, parents and traveling, and few jokes went without the whole room laughing. It was nice to see, as this seemed to match the kind of entertainment students want in between classes or work.  Most students aren't looking for a jam session in the already limited timeframe they have before their next destination, let alone enduring someone's cover of Creed's "Can You Take Me Higher?"
Granted, it's not as easy to find successful comedians to perform on campus every month as it is getting local musicians to perform at Tunes @ Noon, but by getting Palascak here instead of something forced or low-quality, it showed administration isn't entirely tone-deaf to the interests of students, which provides some renewed faith in the campus programming.
Palascak, originally from Indiana himself, has the kind of delivery you would expect from someone like John Mulaney. Every joke is delivered with the precise timing in wording that amplifies the entire joke as a whole, making the performance feel more like a natural conversation between really good friends as opposed to something robotic filled with cheesy punch lines. It essentially comes down to what is great storytelling, and showed both his love and care for the craft and why he finished in the top five on "Last Comic Standing."
There was no nervous silence or stammering, and Palascak easily filled the hour without even using much of his known material, which he said he avoided on purpose in case they wanted to buy his first album that he brought with him so that they wouldn't have to hear the same thing twice. He also showed that he knew the financial plight of college students by ensuring the merchandise he brought with him wasn't priced in such a way that students would be eating ramen for a month if they bought it. If you liked his free performance, then $5 got you another to listen to and an autograph to go with it.
Truly, this was a performance students could walk away from feeling as if they just got out of a paid show at a comedy club, which is kind of astounding when you consider where it actually was. What felt like an evening weekend performance at a club ended up fitting into the lunch hour of a campus with time to spare, giving students and faculty plenty to laugh at without sparing any of the quality.